Barnard College Faculty Tenured in 2023
Five Barnard professors joined Columbia's tenured faculty in 2023, including Laura Rosenbury, who became the ninth President of Barnard College on July 1, 2023.
Tenure is a distinction that recognizes scholarly excellence, demonstrated capacity for imaginative, original work, and great promise for continued contributions at the forefront of their fields.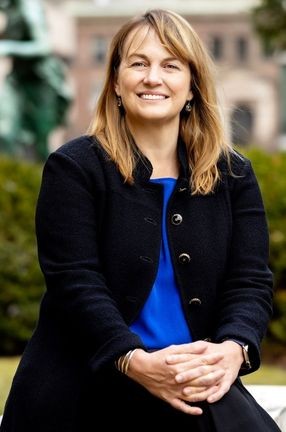 Laura Rosenbury
Laura Rosenbury is President of Barnard College and Professor of Women's, Gender, and Sexuality Studies. She is a distinguished legal theorist and academic administrator who studies how law and social norms interact in family law, property law, and employment discrimination law. 
Rosenbury's scholarship has explored how family law has formalized or privileged certain forms of familial practice while obscuring other forms of intimacy and familial relations. Her writing has been published in the Yale Law Journal, Michigan Law Review, University of Pennsylvania Law Review, and Cornell Law Review, among others. 
Rosenbury earned her JD at Harvard Law School and held appointments at Washington University in St. Louis School of Law before becoming the first woman dean at the University of Florida's Levin College of Law in 2015. Rosenbury joined Barnard's faculty in 2023, becoming its ninth president as well as Professor of Women's, Gender, and Sexuality Studies.
Laura Rosenbury's Faculty Profile
---
Michael Campbell
Michael Campbell, Associate Professor of Chemistry at Barnard College, is a trailblazing inorganic chemist who works to address diverse challenges in catalysis and materials science. 
With a particular focus on the chemistry of silver, historically a poorly-understood element, he utilizes the redox chemistry of silver to explore how silver complexes can accomplish bond-forming reactions that are valuable for the synthesis of pharmaceuticals and agrochemicals.
A second research thrust looks at how the photophysical properties of silver catalysts can be used to develop light-excited redox catalysts, a development that could have applications in areas ranging from solar energy conversion to carbon dioxide reduction.
Campbell received his PhD from Harvard University in 2014 and joined the Barnard College faculty in 2016, earning tenure in 2023.
Michael Campbell's Faculty Profile
---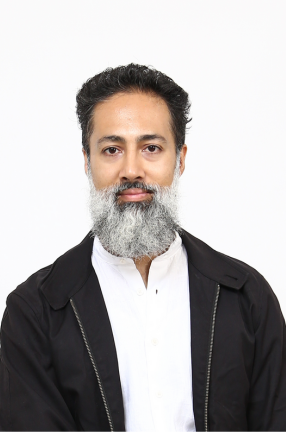 Manu Karuka
Manu Karuka, Associate Professor of American Studies, is a leading American Studies scholar who examines the structural forces and events that have shaped the United States as a global power. By weaving together threads of economics, politics, and social relations, he reinterprets aspects of American history through the lenses of imperialism, colonialism, and racial capitalism.
His book, Empire's Tracks: Indigenous Nations, Chinese Workers and the Transcontinental Railroad, critically assesses the role of the railroad in shaping American empire. By shedding light on the exploitation and dislocation of indigenous peoples and Chinese immigrant laborers, his work challenges mainstream narratives that present the railroad as a symbol of progress and unity. Among his other publications, he co-edited a special issue of Theory & Event, "On Colonial Unknowing," as well as The Sun Never Sets: South Asian Migrants in an Age of U.S. Power.
Karuka received his PhD from New York University and taught at Texas Tech University before joining the Barnard faculty in 2014, earning tenure in 2023.
---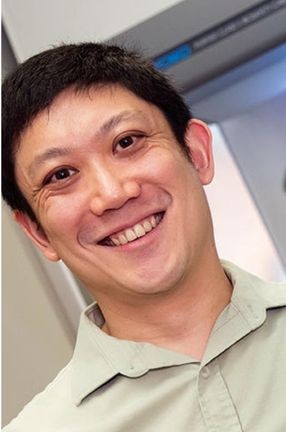 JJ Miranda
JJ Miranda, Associate Professor of Biology, is a leading microbiologist who studies the gene regulation of human viruses that cause cancer. In particular, he focuses on the Epstein-Barr virus (EBV), which is associated with multiple forms of lymphoma, and the Kaposi Sarcoma-associated herpesvirus (KSHV), which is associated with skin cancers prevalent among people living with HIV. Using wet lab and computational methods, he studies how these viruses reactivate from a lifelong dormant infection and cause disease.
Miranda is interested in identifying biological pathways that turn viral replication mechanisms on and off, basic science that could have translational implications for the clinic. Professor Miranda's research also aims to test small molecule regulators of these same pathways as potential treatments for virus-associated malignancies.
---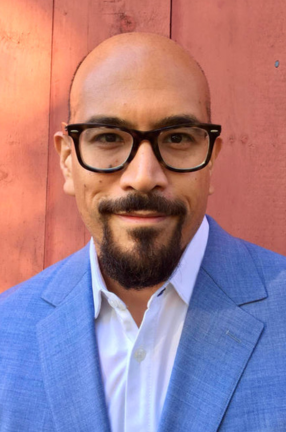 Eduardo Moncada
Eduardo Moncada, Associate Professor of Political Science, studies the origins of crime and violence in Latin America and their consequences for politics and social development. Moncada takes an interdisciplinary approach, bridging political science with urban studies and criminology, and has conducted extensive fieldwork in Colombia, El Salvador, Mexico, and other parts of Latin America.
His book Resisting Extortion: Victims, Criminals and States in Latin America (2022), which has received multiple awards, examines how communities navigate a reality of widespread extortion, and how individuals resist criminal victimization in very different ways. Moncada was selected for the 2021 Clarence Stone Scholar Award by the American Political Science Association for young scholars making significant contributions to the study of urban politics.
Moncada received his PhD from Brown University and was an assistant professor at Rutgers University before joining the Barnard faculty in 2015, earning tenure in 2023.
Eduardo Moncada's Faculty Profile