Vagelos College of Physicians and Surgeons Faculty Tenured in 2023
Seven professors joined the Vagelos College of Physicians and Surgeons' tenured faculty in 2023. Tenure is a distinction that recognizes scholarly excellence, demonstrated capacity for imaginative, original work, and great promise for continued contributions at the leading edge of one's field.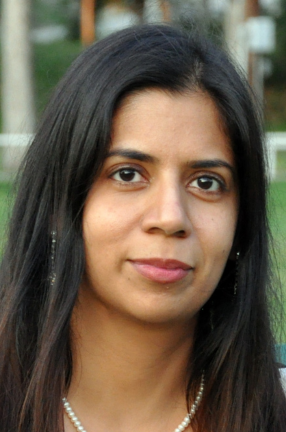 Swarnali Acharyya
Swarnali Acharyya, Associate Professor of Pathology and Cell Biology (in the Institute for Cancer Genetics), is a pioneering cancer researcher studying how cancer spreads to different parts of the body by a process known as metastasis, and how it impacts the host. Her research focuses on two areas of cancer biology: (i) cachexia—a wasting syndrome that leads to the loss of skeletal muscle and fat—and metastatic disease in end-stage cancer progression. She has several landmark papers that elucidate how cachexia is linked to accelerated cancer patient mortality, knowledge that points to potential anti-cancer therapeutics, (ii) how metastatic cancer can be reprogrammed and treated. Her findings have shown how intractable lung cancer that has spread to the brain can be treated by a combination of novel therapeutics. 
One of her most notable findings is identifying how the elimination of a particular protein (ZIP14) can reduce muscle degradation and prevent cachexia in end-stage cancer. Acharyya's work has strong translational value and has resulted in novel clinical trials. Her papers have appeared in journals including Cell, Cancer Discovery and Nature Medicine, she was invited to write and edit the first textbook on metastasis and cachexia, Systemic Effects of Advanced Cancer: A Textbook on Cancer-Associated Cachexia, which was published in 2022 by Springer Press.
She received her PhD from the Ohio State University, and joined Columbia's faculty in 2014, receiving tenure in July 2023.
Read Swarnali Acharyya's Faculty Profile
---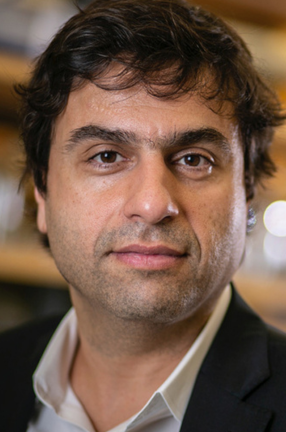 Hashim Al-Hashimi
Hashim Al-Hashimi, Professor of Biochemistry and Molecular Biophysics, is a global authority on nucleic acid structural dynamics, which are the conformational changes and movements that occur within nucleic acids like DNA and RNA, molecules that help pass on genetic traits across generations.
Al-Hashimi's pioneering work has fundamentally changed the way the structure of nucleic acids are viewed. Using nuclear magnetic resonance spectroscopy and computational modeling, Al-Hashimi has shed light on the dynamic changes of state that RNA and DNA undergo, and how such states affect biological function. 
In addition to his contributions to basic science, Al-Hashimi collaborates with biologists to understand how the structural dynamics of DNA impact the probability of mutagenesis and cancer and has developed approaches for targeting RNAs that rely on modulating their structural dynamics. These discoveries have exciting therapeutic potential.
Among his many honors, he received the NAS award in Molecular Biology and the Vilcek Prize for Creative Promise in Biomedical Science; is a Fellow of the Biophysical Society and International Society of Magnetic Resonance and was named by Popular Science Magazine one of its "Brilliant 10," an annual list of top scientists and engineers in the USA under age 40. Al-Hashimi received his PhD from Yale University and held appointments at University of Michigan and Duke University before joining the Columbia faculty in 2022, receiving tenure in July 2023.
Hashim Al-Hashimi's Faculty Profile
---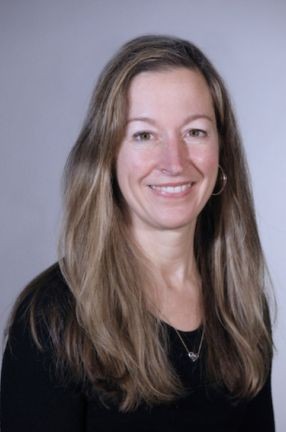 Kate Dimond Fitzgerald
Kate Dimond Fitzgerald, Professor of Psychiatry, is a leading child and adolescent psychiatry scholar who strives to develop better treatments for children suffering from obsessive-compulsive disorder and anxiety disorders.
As both a clinical psychiatrist and a translational neuroscientist, Fitzgerald bridges basic science with clinical practice. She is currently working to develop mechanisms that adapt cognitive behavioral therapy to meet the needs of younger patients, including preschoolers. Her research has identified biomarkers in the treatment of obsessive-compulsive disorder, and by using multi-modal imaging techniques, she is able to get a comprehensive view of how the brains of OCD patients process errors, suggesting alterations in particular brain regions.   
Fitzgerald earned her MD at Wane State University and held appointments on the University of Michigan faculty before joining the Columbia faculty in 2021, earning tenure in 2023. 
Kate Dimond Fitzgerald's Faculty Profile
---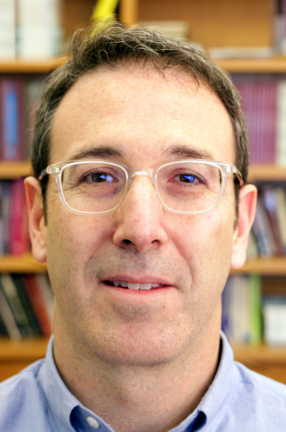 Ian Kronish
Ian Kronish, Associate Professor of Medicine, is a general internist and behavioral medicine researcher who focuses on cardiovascular disease and hypertension, working to develop interventions that improve adherence to treatment using implementation science and experimental medicine approaches. 
Kronish has served as principal investigator on multiple federally-funded, randomized clinical trials, and some of his most notable research findings demonstrate how distress about past and future cardiovascular events undermines healthy behaviors.
He is director of the Roybal Center for Behavioral Cardiovascular Health, president of the Academy of Behavioral Medicine Research, and a fellow of the New York Academy of Medicine, the American Heart Association, and the American Psychosomatic Society. He also co-directs the hypertension center and is the Associate Director of the Center for Behavioral Cardiovascular Health at CUIMC.
Kronish earned his medical degree from Harvard University and his master's in public health from Icahn School of Medicine at Mount Sinai. He held appointments at Mount Sinai before joining the Columbia faculty in 2011, earning tenure in 2023. 
---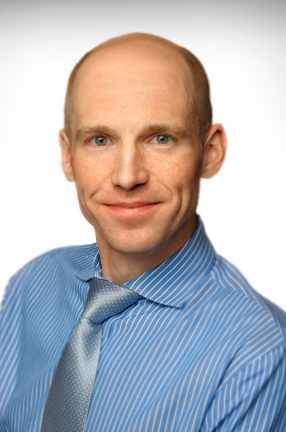 Markus Siegelin
Markus Siegelin, Associate Professor of Pathology and Cell Biology, is a leading expert on glioblastoma, a malignant brain tumor that typically carries a bleak prognosis of only 12-18 months for patients receiving the standard of care.
Seeking to improve understanding and treatment options, Siegelin explores cell death mechanisms in tumors in order to overcome tumor resistance to therapy and identify new treatments for glioblastoma and other cancers.
One key discovery has been identifying how targeting a particular protein in the mitochondria of a cell inhibits tumor growth, a finding with the potential to lead to new treatments. Siegelin also studies the use of lactate for energy regulation and epigenetic gene regulation in tumors. 
Siegelin received his medical degree from Goethe University Frankfurt before joining the Columbia faculty in 2013, earning tenure in 2023.
Markus Siegelin's Faculty Profile
---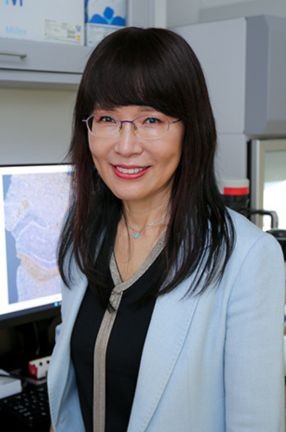 Yousin Suh
Yousin Suh, Professor of Reproductive Sciences (in Obstetrics and Gynecology) and of Genetics and Development, is a leading scholar who studies the genetic and epigenetic factors that cause female reproductive aging.
Rather than examining molecular pathways—a conventional approach to study aging—Professor Suh both conducts lab work and mines datasets from genome-wide association studies. Her innovative scholarship has contributed much to the field, and her research helped identify the genetic pathways that age human ovaries.
These results have tremendous translational opportunities, and Professor Suh is currently collaborating on a study to delay ovarian aging, extending a woman's reproductive lifespan and promoting overall health.   
Professor Suh received her PhD at the University of Houston and held appointments at the University of Texas Health Science Center and Albert Einstein College of Medicine before joining the Columbia faculty in 2019, earning tenure in 2023.
---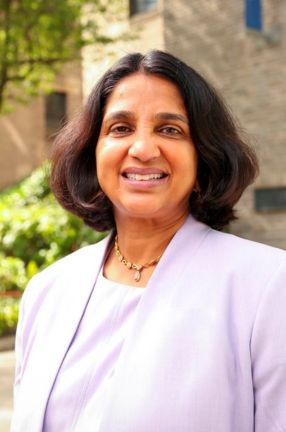 Uma M. Reddy
Uma M. Reddy, Professor of Obstetrics and Gynecology and of Population and Family Health, is a leader in the field of maternal-fetal medicine who has conducted groundbreaking research in stillbirth, preterm birth, and labor management. 
Her studies have generated new paradigms for prevention and intervention strategies and have had a profound impact on the practice of obstetrics worldwide. 
Her work has led to increased detection of genetic causes of stillbirth, and she has helped to make microarray technology, which allows researchers to analyze the expression of thousands of genes simultaneously, standard in clinical obstetrics. 
Reddy earned her medical degree from Brown University and master's of public health from the Johns Hopkins School of Public Health. She completed her residency in Obstetrics and Gynecology at the Johns Hopkins Hospital and her Maternal-Fetal Medicine fellowship at Thomas Jefferson University. She has held appointments at Yale University, the National Institutes of Health, Georgetown University, and the National Naval Medical Center before coming to Columbia to serve as the Vice Chair of Research in the department of obstetrics and gynecology in 2022, earning tenure in 2023.
Uma M. Reddy's Faculty Profile