Roundtable on Black joy and transformative scholarship highlights new recruits
On Monday, February 20, the Office of the Vice Provost for Faculty Advancement hosted a fireside chat with newly-appointed faculty in the fields of social work and sociology. The event, entitled "Engaging Our Communities: Transformative Scholarship for Dismantling Anti-Black Racism and Fostering Black Joy," was moderated by Associate Professor of Social Work and Associate Director of DEI in the Data Science Institute Courtney Cogburn. Nkemka Anyiwo, Natasha Johnson, and Charles Lea, assistant professors of social work hired through the Race and Racism Scholarship Cluster Hire initiative, were on the panel with Marissa Thompson, assistant professor of sociology, whose research is on causes and consequences of educational inequality.  
Of the 50 attendees, 9 were students or prospective students, 12 were members of Columbia's staff, 12 were on the faculty, and 17 were community members. During the wide-ranging conversation, the panelists shared their reasons for doing this work, the University's Fourth Purpose and the responsibility of researchers to make their work accessible to communities beyond the academy; the challenges of aligning their work with the requirements of the tenure process; and how they replenish themselves in their lives beyond work.
Image Carousel with 6 slides
A carousel is a rotating set of images. Use the previous and next buttons to change the displayed slide
Slide 1: Photo of the full panel: professors Cogburn, Johnson, Thompson, Lea, and Anyiwo

Slide 2: Photo of the audience taken from behind

Slide 3: Photo of three women standing in front of trays of food

Slide 4: Photo of audience members lined up for food. In the center, two women are talking

Slide 5: Photo of panelists

Slide 6: photo of moderator Courtney Cogburn standing and smiling in front of a laptop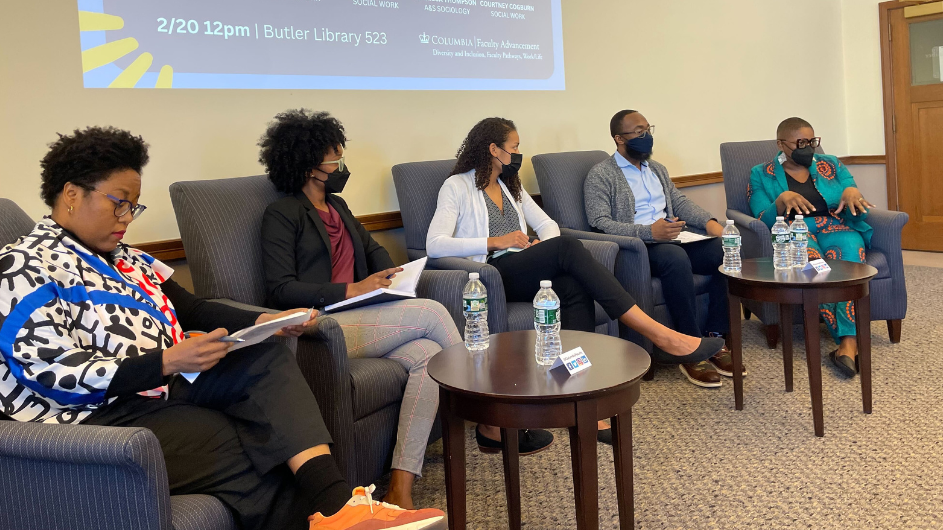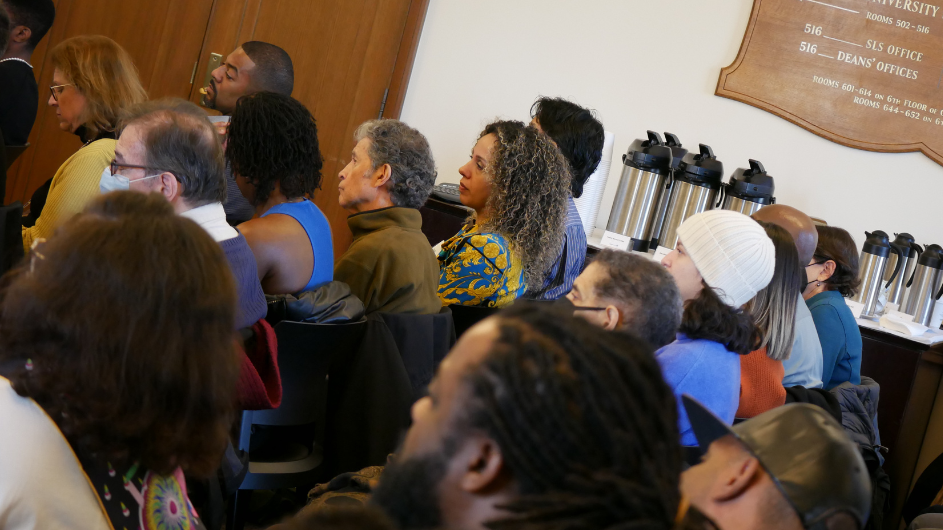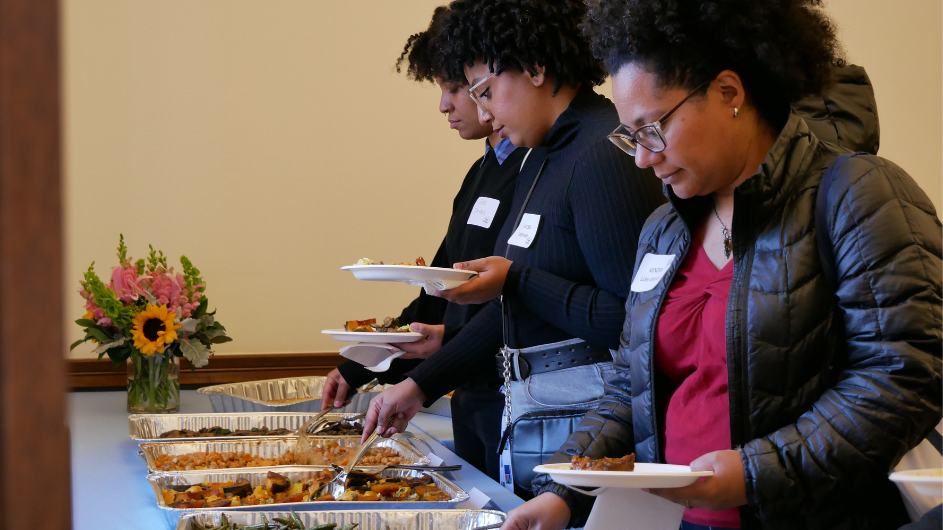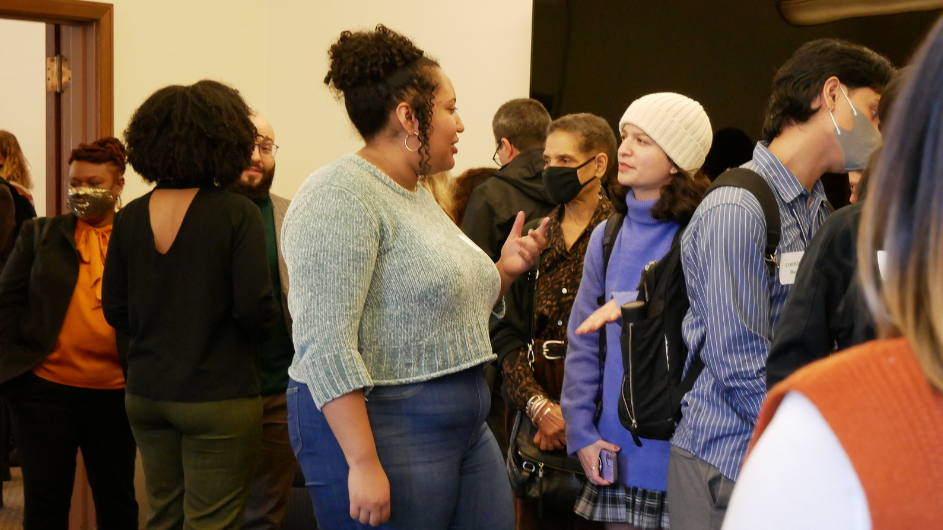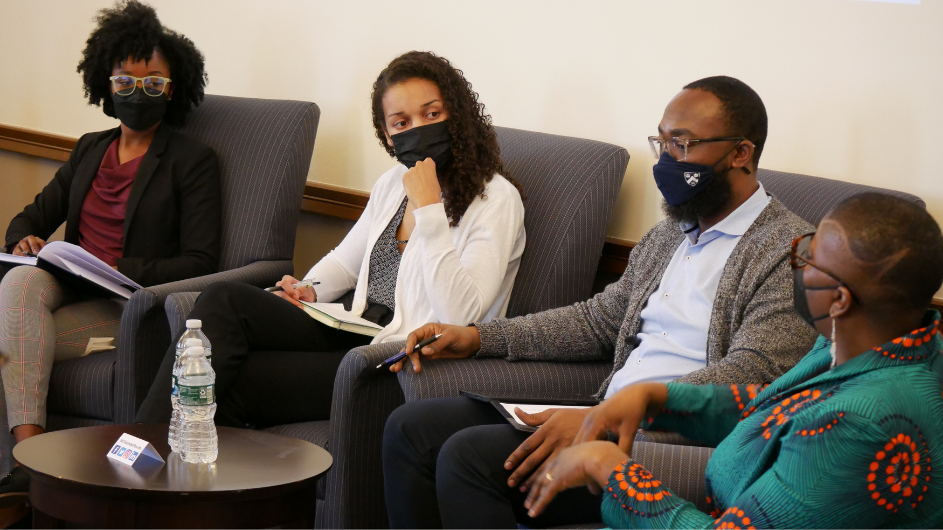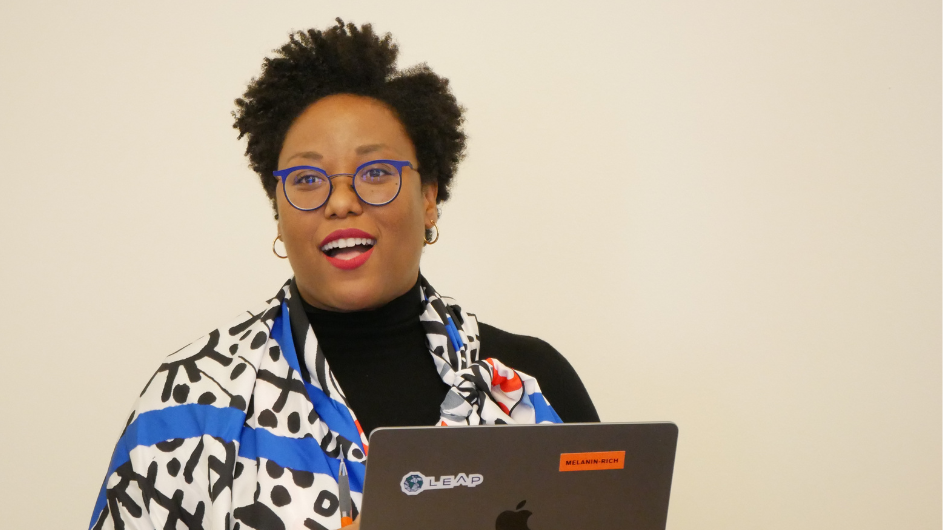 Previous
Next
The conversation closed with each panelist sharing their own vision of Black Joy. This was followed by a lively question and answer session and a lunch reception. 
This conversation is the first in a series designed by faculty in collaboration with the Office of the Vice Provost for Faculty Advancement.