Faculty Reflections: Ellie Hisama, PhD
Editor's note:
Professor of Music and inaugural Faculty Mentoring Award awardee, Ellie Hisama, has accepted a position as Dean of the Faculty of Music at the University of Toronto. She recently spoke with Jennifer Leach, Assistant Director for Faculty Advancement, about her efforts to bring greater diversity and equity to the field of music theory and to the University, and some highlights from her career here.
June 28, 2021
Looking back, what were some of the highlights from your time at Columbia?
I arrived at Columbia in January of 2006; this is my 16th year. I'm proud of the changes I have helped to bring about to my department and to the University. I'm the only female faculty member in the Music Theory area of the Music Department, and the only nonwhite faculty member in that area as well. I have worked to bring greater diversity to the Department in terms of teaching and curricular reform, and also to bring a greater awareness of power and equity to the department. 
A central part of my work has been helping my department envision a more inclusive, welcoming environment for students through what we teach and how we teach it.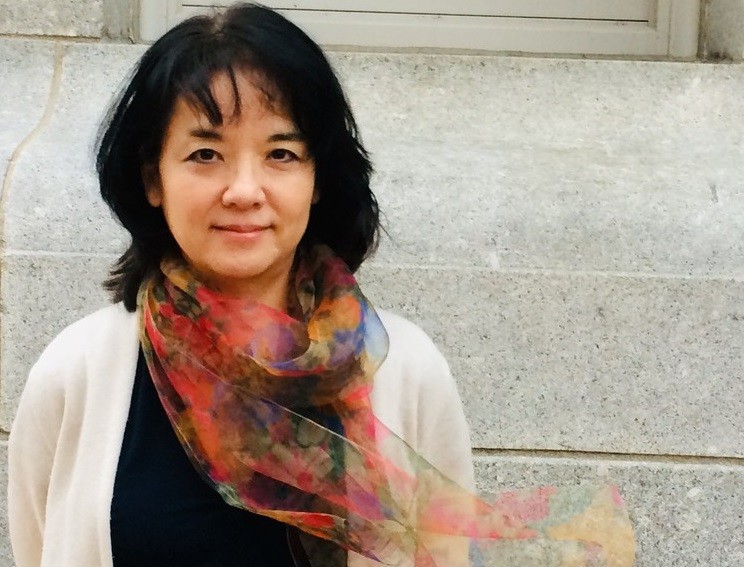 Can you speak about the planning of the Marcellus Blount memorial event?
Marcellus Blount and I had worked together through the Executive Committee of the Institute for Research on Women, Gender, and Sexuality (IRWGS) for years, but I had no idea about his history of activism or his dance training until after his death in 2018; that was all new to me. 
The title of the event was Agents of Change, which was then EVP Maya Tolstoy's idea. We were thinking about possibly planning a series of events because there are so many faculty who have brought about much-needed change at Columbia. I think we need to know the history of our institution and the important contributions that individuals have made. I've been really proud of these public-facing events which have brought people together across the university and have brought the public to campus as well.  
I compiled a set of tributes to Marcellus, which were really incredible. They included statements by his colleagues from throughout the University, including the Department of English and Comparative Literature, as well as his past students, including some of the first women to matriculate at Columbia in the eighties. I was touched to hear them talk about his way of teaching, which was so gentle and so fierce at the same time. After Marcellus' death, we learned so much about his activism, his love for the arts, and his love of baseball. There were so many parts of his life and history and intellectual work that I wish I had been able to talk to him about. 
The event was held in the rotunda of Low Library. It was really important to have it in that big, beautiful official Columbia space because it's an iconic setting. I played a recording from an oral history that Marcellus had given. To hear his voice in that space was so moving. Then we arranged a solo dance performance by Lloyd Knight, Principal Dancer of the Martha Graham Dance Company. It was very special to have Lloyd doing a solo piece in that space. People were gasping at the beauty of his performance. 
What were some of the curricular changes that you created in your department? 
I just finished teaching a course I created in 2007 called Listening to Hip Hop, which I have taught five times. It always has a huge waiting list. This year, I was able to secure a TA in order to open it to more students from all across the University. The students included many women, and I am thrilled by this gender diversity in the class because hip hop is often seen as a very male, masculinized, sexist arena. I'm really proud of that class. There was a profile about us in an edition of The Spectator on the history of hip hop at Columbia.
Some of the students, who had taken the class years ago, talked about its impact with regard to the Columbia University Society of Hip Hop, and how they were so happy to have a class that addressed hip hop in a serious academic fashion. Students have told me how important it was for them to see hip hop receive institutional respect at Columbia and also how it opened their ears in terms of listening practices. 
Students have told me how important it was for them to see hip hop receive institutional respect at Columbia and also how it opened their ears in terms of listening practices.
Another class that I have offered is a graduate seminar called Gender, Sexuality, and Music. Gender studies in music started about 30 years ago, and it really has taken root. Now we regularly pay attention to gender and sexuality studies in musicology. I'm proud that students from my classes have gone on to publish their work, taking up ideas from class. It's wonderful. 
I know that the April 21 panel, We Have to Reimagine, was a long time coming for you. Can you speak about the genesis of this event?
We all know that 2020 was a year of a lot of sadness — the tragedies of COVID-19 and George Floyd's murder. It was a year that we will not forget, so we have to grow from it and become contributors to a better world. Months ago, I proposed an event about anti-Asian racism. I had been reading with increasing alarm about the assaults on Asian-Americans, especially Asian-American elders.  Then the Atlanta murders happened in March, and I was deeply affected as an Asian woman who has often experienced the sort of stereotypes that haunt us throughout our lives. I thought, we need more conversation. 
In my class, I talked to my students about my own article, "Postcolonialism on the Make," which I published in 1993. It's about songs by white male artists such as David Bowie about the supposed racial virtues of Asian women. "China Girl" is one of the most famous; John Mellencamp also has a song with that title. All of these songs degrade Asian women and reduce us to sexualized stereotypes. I showed the David Bowie video and we discussed the example of Mickey Rooney in yellowface in Breakfast at Tiffany's, an iconic American film. We talked about how cultural expressions of anti-Asian racism are very much a part of people's lives. There were many Asian students in the class and some of them talked very frankly about being racially minoritized here while coming from another country where they are the majority. Here, they are seen as Asian-American or Chinese, as if all Asians must be Chinese. 
I was deeply affected as an Asian woman who has often experienced the sort of stereotypes that haunt us throughout our lives. I thought, we need more conversation. 
With regard to Asian-American studies at Columbia, I haven't really been connected to a community. However, I know a number of people who are doing tremendous work. Denise Cruz, for one, teaches an amazing class on Asian American literature. 
When I contacted several faculty colleagues about the event, they all agreed to participate. Our panelists were Mae Ngai, the amazing historian; Lydia Liu, another very prominent scholar here at Columbia; David Henry Hwang, a Tony Award-winning playwright; and the fantastic writer Marie Myung-Ok Lee. We had another guest from outside Columbia, the scholar-activist Akemi Kochiyama, granddaughter of the legendary activist Yuri Kochiyama, who lived here in Harlem. 
What can you tell us about the new Asian faculty organization? 
The Columbia University Asian Faculty Association (CUAFA) is a new organization. Edward Guo, Chair of Biomedical Engineering, is the President. I was invited to join. It is open to all faculty of Asian heritage and allies at Columbia, regardless of their country of origin or citizenship. I am excited to see what they will do.
I'm glad that with CUAFA, faculty will have the opportunity to connect outside of their departments, schools, or campuses and learn about each other's work. We rarely see or speak to those outside our departments or schools. We are connected through the fabric of the university. And through these groups and through initiatives offered through Dennis [Mitchell]'s office, there are so many ways that we can get to know each other. I think it's very enriching. 
Speaking of the fabric of the university, we also have to note that you were one of the inaugural Faculty Mentoring Award winners. What is your mentoring philosophy, and what advice do you have for junior faculty regarding mentoring? 
I was humbled and honored to receive the award along with four other colleagues in 2020. We noted that all of the winners were women —  mentoring often is something that some women see as our duty — whether or not we get "credit" for it. A lot of it is invisible work. A lot of it is urgent work, so you have to drop everything and get on the phone and guide someone through a really difficult conversation. If someone is really feeling alone, mentoring can make it possible for them to handle the situation and not ignore it or just suffer. So I think having a mentor and being a mentor are both critical activities. 
Being a university citizen is not just about publishing many books and articles and giving keynote addresses but participating in the fabric of the university and helping it to become whole. We should all contribute.
I have had mentors throughout my career. Having a mentor is crucial for navigating academic life: trying to pass your exams, finishing your dissertation, getting a job, trying to keep your job, and trying to balance children and family and your work. I've been blessed to have a few mentors. It's important that Columbia has this award, and there are some fabulous people being celebrated. 
I would also say that having more than one mentor is important. I give a shout out to Art History and Archeology, because I was invited by Michael Cole, the outgoing Chair, to be the mentor for a junior faculty member in his department. I have never taken an art history class, although I admired art historians from afar. I have had a fabulous time with my mentee; we meet for coffee or lunch, have gone to art exhibitions together, and discuss many aspects of academic life.
I also get a lot of really important ideas from my mentee. For example, she sent me a video of Jay-Z and Beyonce at the Louvre that I used in my hip hop class. It beautifully illustrates how a traditional space can be occupied by people who are not typically represented there. I showed it in my class, and made the connection to hip hop. Thanks to my mentee, I have learned more about art history and I am turning to visual art in my own work. 
I hope that Columbia could more formally recognize the work of mentoring at the School and Department levels. One step is certainly this annual award, but does mentoring count [for promotion or tenure]? Is it recognized at the upper levels by the divisional deans, by the EVP? If someone is untenured and is busy mentoring a lot of graduate students, does this count towards tenure,  or is it only the publication record and teaching? Rather than the mindset that service and mentoring are nice if you have the time, these activities should be considered as critical to sustaining our faculty and should be recognized, celebrated, and supported. Being a university citizen is not just about publishing many books and articles and giving keynote addresses; it is also about participating in the fabric of the university and helping it to become whole. We should all contribute. 
What do you hope that your legacy will be here at Columbia? Let's imagine that you come back to visit in ten years — what might Columbia look like?
Wow, that's a great question. I hope that there will be much more demographic diversity in terms of the faculty. I would say it is there in the students, but data can be skewed within a particular area or department. Because the Music Department is very classical music-focused, we don't have a lot of racial diversity in the majors and concentrators. We do have a number of fabulous women students from Barnard, and I'm grateful for their great energy and ideas. I do hope that courses in popular music such as hip-hop can become part of the curriculum and not only electives; I think this would help contribute to the sense that the Department is connected to music beyond that of the Western classical tradition, which is where we are now. 
I hope Music Humanities changes dramatically from what it is, which focuses primarily on Western art compositions by white European men; with the 20th century, a little bit of jazz, Duke Ellington and a few women composers are added, but it really should be much more robust.
I also hope there will be much more diversity in the senior leadership at Columbia. I hope we will have a woman President. I hope we will have BIPOC administrators throughout the University. And specifically with regard to Asians and Asian-Americans, there are not many in the faculty and yet there are so many in the student body. I don't think it makes sense to thinking of matching the small percentage [of Asians] in the United States [when making hiring decisions]. As Mae Ngai remarked at our panel, there's a reason why the Asian population in the US is so small; it is because of laws restricting immigration. 
Instead, we should meet the needs of our students by providing them with more people whom they can relate to and can learn from. In my hip hop class, which included many Asian students, a number of them appreciated that I explicitly addressed the Atlanta murders and Asian-American issues throughout and they could learn about Asian diasporic hip-hop. 
Tell us about your new position. What are you looking forward to?
I will be Dean of the Faculty of Music at the University of Toronto. I will be in charge of hiring, creating policies, and attending to equity, and will have conversations with the Provost and other Deans. I look forward to being a leader who is devoted to bringing about change in terms of equity, inclusion, and diversity. 
I'm excited to begin this position. I published an article called "Change from Within" that talks about the need to work within an organization to improve it. You can knock on the door and try to break walls down, but that can get really exhausting. Another way is to change an institution from your position inside it. I think that it is really important for women and people of color to assume leadership roles when possible in order to enact change. I've greatly enjoyed the opportunities I've had at Columbia as chair of the Humanities Equity Committee, as Theory area chair in my department, and as head of the Academic Review Committee. That was one of my favorite committees, because it gave me a chance to look closely at departments, institutes and centers and to help bring about positive change. 
Is there anything else you'd like to say before you go? 
Yes. Maybe this could be useful advice for people thinking about their future at Columbia: working outside my department has been really helpful for me. I've been part of the Executive Committee of IRWGS for years, and I served on the Governing Board of the Society of Fellows/Heyman Center for the Humanities; I also have enjoyed a long friendship with people who work at IRAAS (Institute for Research in African American Studies) long before AAADS (African American and African Diaspora Studies) came into being. I want to acknowledge the work of those institutes and centers, which is really important for people who are interested in interdisciplinary collaboration with attention to women, gender, sexuality, race, and ethnicity. Also the Center for the Study of Ethnicity and Race (CSER) does such life-changing work. They need greater support from the university.  We should recognize the value of what the people in those institutes and centers do and fund them well, support them, go to their events and also help them organize events. 
I'll end by saying that I'm excited to move to Toronto and excited for my new job. I'm not saying goodbye — I hate goodbyes.