Queen Mother of Harlem: The Story of Sister Aisha
Hisham Aidi, International and Public Affairs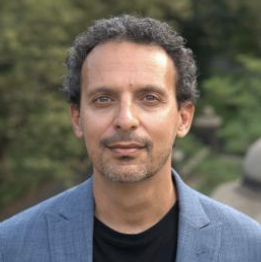 "Queen Mother of Harlem:" The Story of Sister Aisha [working title for 20-25 minute documentary]
 
This documentary aims to tell the story of Aisha al-Adawiya, a prominent leader in Harlem and the Muslim American community. Sister Aisha, as she's known, moved to Harlem from Alabama in the early 1960s to pursue her dream of being a jazz vocalist. She got involved in the Black Arts movement in the Village, eventually embraced Islam, moved to Harlem and grew close to Betty Shabbazz, Malcolm X's widow. 
 
Aisha became an internationally-renowned human rights activist. In 1994, following the genocide in Bosnia, she set up an organization called Women in Islam which has raised awareness and funds for conflicts around the world. She also founded the Malcolm X Museum. For the past 35 years she has worked at the Schomburg Center for Research in Black Culture in Harlem. She retired in September and has an extraordinary personal archive, a collection of books, pamphlets, photographs, recordings, etc documenting her life in activism and art.
 
Aisha is a long-standing member of the Columbia community -- she has been involved with the Muslim Student Association and SIPA since the 1970s. She has organized dozens of panels and lectures at Columbia over the decades on feminism and religion, structural racism, US foreign policy and humanitarian intervention. She was deeply involved in the Ford Foundation-funded "Muslims in New York" (MSNY) project based at SIPA from 1997 to 2003, and which produced numerous studies and dissertations on Muslim civic engagement in New York.  Aisha was around when Columbia tried to demolish the Audubon Center in 1992; with Betty and the Shabazz daughters, she subsequently set up the Shabazz Center in what's left of the Audubon. 
 
Aisha was involved with Columbia's MSA when the FBI raided their offices in 2002, and when NYPD surveillance began a few years later. She, along with Imam Talib, another Harlem elder, launched a lawsuit against the NYPD. So this short documentary would be a story about a Harlem community leader and feminist who for decades served as a bridge between Columbia and Harlem; this would also look at the history of Muslim Student Association, Black Arts, student activism, and surveillance at Columbia.
 
The aim of this project is to use the life of this 80-year old community leader and human rights activist to examine multiple issues: 1/ how Harlem activists have shaped Columbia University's intellectual and communal life over the decades, 2/ how Harlem-based leaders from Malcolm X to Leonard Jeffries have used Columbia as a venue, while also resisting Columbia's expansion into Harlem and Washington Heights; 3/ how a Harlem-based NGO (Women In Islam) raised awareness around myriad conflicts, while often using Columbia as a venue and organizational space; 4/ how Columbia students and Harlem leaders mobilized against policies like "Special Registration," the "travel ban" and NYPD surveillance.
 
This particular project can be expanded to become a series of shorts on the history of activism linking Harlem and Columbia; showing how campus intellectual and religious life extends into Harlem and vice versa. 
This project was funded through the Addressing Racism: A Call to Action for Higher Education initiative of the Office of the Vice Provost for Faculty Advancement.