Junior Faculty Awardee Profile: Alissa Davis
Editor's note:
Jennifer Leach, Associate Director for Faculty Advancement, recently met with Alissa Davis, Assistant Professor of Social Work and Spring 2020 Junior Faculty Grant recipient, to speak about her work.
January 19, 2022
Tell us about your background and the early experiences that led to your academic career.
I'm from Idaho originally. I didn't really plan on going into academia, but I really liked graduate school and just kept going. My doctoral degree is in epidemiology, but my master's degree is in international relations. During my master's program, I did an internship with the International Organization for Migration and another internship with a small nonprofit organization in Russia that worked with human trafficking victims and street kids. I became interested in sexual health and substance use and became really interested in working in the public health space.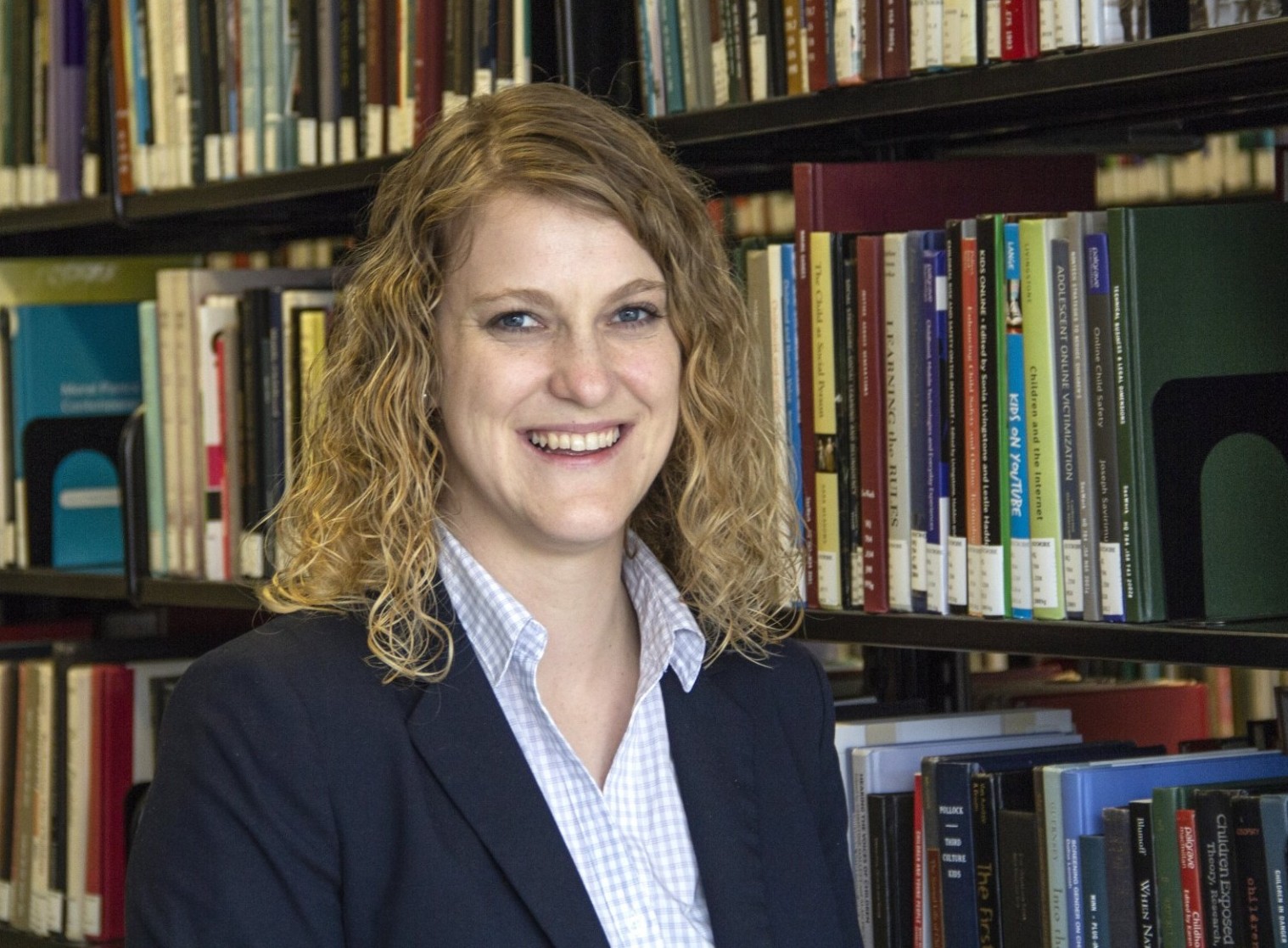 I decided to get a doctorate degree in epidemiology, and did my postdoc at Columbia University Medical Center at the HIV Center. I did further research and work on sexual health and HIV research, as well as research on substance use issues both domestically and in Kazakhstan, with the Global Health Research Center of Central Asia and the School of Social Work.  My primary mentor at the HIV center was Nabila El-Bassel, and most of my work was with her. After my postdoc, I applied for faculty positions and was hired by the School of Social Work, where I am now.
It seems like there's a lot of crossover between epidemiology and social work. Can you speak about that connection for you?
Epidemiologists are highly focused on research methods and causes of diseases, as well as health disparities. But the thing that was appealing about social work, I think, was the work on intervention science and research, an area that is not typically a primary focus for epidemiologists.
Working with Nabila and other Social Work faculty members during my postdoc really opened up a whole new world of intervention science to me, and when I applied for faculty positions, I was looking at schools of public health and of social work. I was really drawn to the robust intervention research program at the School of Social Work at Columbia, and I decided to stay.
...the thing that was appealing about social work, I think, was the work on intervention science and research, an area that is not typically a primary focus for epidemiologists.
Your educational experience includes Asian studies and Russian education. What sparked your interest in these areas? 
I studied Russian as an undergrad because I needed a foreign language to graduate and it happened to fit my schedule. I never expected that I would use Russian in the future, but I fell in love with it. I had the opportunity to do a critical language scholarship program through the State Department, and developed a good proficiency in Russian while living with host families there. Indiana University, where I did my doctoral program, is one of only a few universities with a Central Eurasian Studies program, and my doctoral minor was in this area. This was what drew me to do postdoc work with Nabila and the Global Health Research Center of Central Asia, and it is what has kept me here.
What are some of the broader problems that you hope to solve with your work?
Right now, I'm working in a couple of areas domestically. I'm very interested in adolescent mental health research and interventions and ways of making mental health services more accessible to different populations of adolescents, particularly racial, ethnic, and sexual minorities who may not have access to traditional types of mental health services. I'm also interested in adolescent mental health in low and middle income countries as well, but don't have any ongoing projects on that topic at the moment.
I never expected that I would use Russian in the future, but I fell in love with it.
In Kazakhstan, I'm working on a project with adolescents, using a crowdsourcing approach to develop digital media content for an HIV stigma reduction intervention. Our goal is to reduce stigma and increase HIV testing. Eastern Europe and Central Asia is the only global region where HIV incidence is on the rise. Other global regions have incidence rates that have remained stable or that have decreased. But, due to the opioid epidemic and other factors, that region of the world has seen a significant increase in incidence rates. 
Another project in Kazakhstan is adapting a couples-based intervention for people who inject drugs to improve their HIV medication adherence. Our participants, HIV-positive people who inject drugs, can bring in a treatment support partner with them to participate in intervention sessions. We hope to help them improve their medication adherence to increase viral suppression and improve their health outcomes.
How has the pandemic affected your work in Kazakhstan?
COVID has complicated things in a lot of ways. Our couples study in Kazakhstan was set to launch in March of 2020, and it took us several months to move all of our procedures online. The intervention sessions with psychologists were supposed to be in-person, and now they are on Zoom. We also had a medication monitoring system for participants that utilized a smartphone and an electronic pill bottle that monitors every time they open the device, and we had to train them through video call. We're also collecting hair samples to measure medication adherence levels, and participants now have to cut their own hair and mail it back to us. Our adolescent study in Kazakhstan started in the midst of COVID and most of it is digital, so it's a little bit easier. 
With the faculty diversity grant project here in the city, we had not intended for it to be remote, but because of COVID, it now is. I was lucky to have great research assistants. We mailed participants smartwatches that could be used to monitor their stress levels. My research assistants had calls with the participants to help them download an app and link their smartwatches to it so we could collect our data, and that actually went really well. Adolescents are very technologically savvy, and so we didn't have a lot of problems transitioning to remote work for that study.
This project has been going well; we recruited 40 adolescents from a Columbia Doctors Primary Clinic, and we collected daily diary measures on their stress levels and depression and anxiety levels, along with physiological data. We are currently in the process of cleaning those data. We're starting the next phase of the study, hopefully in January, where we will expand recruitment and test a mobile CBT (cognitive-behavioral therapy)-based app to see if it's effective at reducing anxiety and depression levels among adolescents.
With your three studies, do you currently have three separate research teams?
In Kazakhstan, I'm lucky to have the Global Health Research Center of Central Asia. Most of their staff are collaborating on a number of projects from other investigators as well. That center has about 20 staff, but not all of them are working on my projects. In New York, I have fantastic doctoral students who are helping with all of my projects. I have some master's students as well; one is from Kazakhstan and had previously worked at the Global Health Research Center. I have about seven federal work study students who are also helping with studies here in the city.
Are you teaching this semester? How would you characterize your teaching philosophy?
I'm teaching a class with Nabila on intervention science; it's the first time I've taught doctoral students. It's great.  
It's more of a method than a philosophy, but I enjoy encouraging class discussions. It's great to see students interact with each other and push each other to think more deeply about issues. In previous semesters, I've taught research methods to social work master's students, and a lot of times they're very focused on clinical careers and research methods is not a top priority. I try to encourage them to think about using research principles to help evaluate clinical programs in organizations that they're working with. These are principles that can be applied across different settings, not just in research-intensive institutions.
Generally speaking, what parts of your work are you most excited about, and what do you find most challenging?
I enjoy the research—engaging with participants and getting feedback from community advisory boards. My research assistants engage with many of the study participants, but occasionally, I have the chance to also talk with them. It's really interesting to see their perspectives and see how their lives change from different interventions that we're doing. It's also helpful to hear firsthand the kinds of problems and challenges that a community is facing and work together to brainstorm different solutions. And then, after putting in so much work to carry out a study, it's really interesting to analyze the data and see the results.
I think sometimes the bureaucratic aspects of setting up contracts and purchase orders and all of these types of things can be really difficult. They take a lot longer than you initially anticipate, particularly when they're being reviewed by multiple parties. That's something that I think is challenging and has become more challenging during COVID, as a lot of organizations have lost staff.
What do you do to recharge in your free time?
I really like reading, actually—mostly historical books. It's really interesting to me now to learn about the past, and that's what I like to do in the evenings when I have some time off. I prefer more recent history from the 1700s on. One book that I read recently was Isabel Wilkerson's The Warmth of Other Suns. That was a really, really fantastic book. She put a lot of work into interviewing people, and it really provided a lot of information about African-American migration north, which I don't think is covered extensively in schools.
To learn more about Dr. Davis' work, please visit her faculty website or you may email her directly.