Letter From The Provost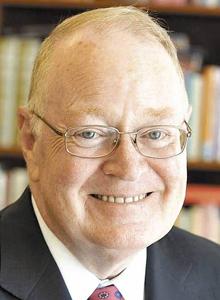 Dear fellow members of the Columbia community:
As President Bollinger recently observed, Columbia has reached a pivotal moment, long in the making. Over the next few years, our Manhattanville campus will come to life as the Jerome L. Greene Science Center, the Lenfest Center for the Arts, the University Forum conference center, and two Business School buildings are completed. Many more Columbians will join the faculty and staff who already live and work in existing Manhattanville buildings—Studebaker, Prentis, Nash and 560 Riverside—as part of this vibrant new center for research, teaching and community engagement. This institutional development will also allow us to use crucial newly freed space on the Morningside and Medical Center campuses for other academic purposes. Together with our successful endowment campaign that supports financial aid and new faculty chairs, as well as capital improvements, no other achievement of recent years will do more to secure Columbia's future as a top-tier global research university.
While we continue to build the University's future, we must sustain and enhance excellence in research and teaching across the University in the here and now. To meet this central challenge, the Office of the Provost has enlisted the continuous participation of faculty committees and advisers on a host of programs and initiatives during the past year. This has included granting tenure to outstanding colleagues and recruits; expanding our commitment to faculty diversity and inclusion; conducting rigorous reviews of major academic units; improving faculty housing policies; implementing incentive programs for faculty retirement and retiree quality-of-life; preventing and responding to gender-based misconduct with enhanced policies, professional staff, and data; and supporting a variety of cross-school initiatives that pursue important areas of new knowledge across traditional academic boundaries. We also have been laying the foundation for a University-wide Center for Teaching and Learning to be launched in the fall that will not only provide the core technology expertise for developing digital course materials, but also support improved instruction in all its forms.
By every measure of academic success, Columbia continues to make enormous strides.
I most want to thank the faculty colleagues who have contributed so much to the University through service on search, research, and policy committees. Faculty governance is the vital core of any great research university, from departments, divisions, and schools through university-wide bodies. I also want to thank the exceptionally distinguished and capable deans and department chairs of Columbia's schools and faculties, who make most of the tough decisions that advance the excellence of the institution. They—and I—have been empowered by a University President whose strategic vision has placed the University in a position of academic leadership and forward momentum unlike any in our recent history.
Finally, a word of appreciation to the superb staff of the Office of the Provost, which now includes active faculty serving as vice provosts alongside full-time administrators, and whose collective efforts have accomplished so much to modernize and improve the work we do for the University.
Best wishes for a happy and productive year,
John H. Coatsworth
Provost